Contents
BigRock Review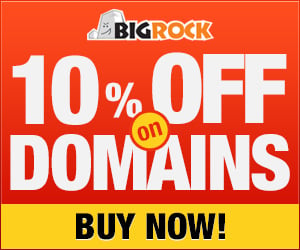 Overview
BigRock has a very busy-looking home page which could be a bit of a turn-off for customers who want the most user-friendly domain registrar. Upon entering the page, you are greeted with screaming headlines for getting 'online in minutes' and for the most part, that sort of aggressive marketing works considering the sheer variety of options for domain registration, web hosting and website design all of which are offered here. For those who are looking for a straightforward domain services provider, with its sales-heavy interface and all the information one could possibly need – products, price and discounts – BigRock just might do.
Despite not having the most appealing website, BigRock means big business. The India-based company offers domain registration, business-class email services, web-hosting, website building, e-commerce services and digital certificates. The company used to only have major presence in the Indian web hosting market but as apparent with the growth it has achieved in the last few years, BigRock has become truly big. They now host over 6 million domains and has been serving customers since 2010. The company, which is part of the Directi group of businesses, also provides plenty of options for web hosting and a fairly impressive list of extension choices. The pricing is entirely affordable if a bit unpredictable.
Just how huge was BigRock's improvement and, more importantly, is it worth choosing them for your domain name and web hosting needs?
BigRock Highlights
Attractive bulk registration rates
Useful freebies for domain name registration
Timely renewal reminders and expiry notifications
Convenient payment methods
Outstanding hosting services
Usability
BigRock's Admin Area is sparse and is a striking contrast to the busyness of its main page. The admin page has easy-to-navigate menus for managing orders, billing information, account settings, and support. Quick links to billing summary, payment methods, promotional offers, adding new order, jumping to domain, jumping to renewal management, and managing free services are also easily accessible on the admin home page and does not require much digging around. You are not likely to use all these buttons and pages but in case you do, it won't take tremendous effort to locate and access them.
An Interactive Guide which appears as a tiny sidebar is useful and provides quick answers to potential queries on domain names, renewing orders, Linux hosting, billing, and business email. Even with that, BigRock's interface can be best described as static, with not a lot of updates and changes over the years. For that reason, it looks a bit outdated and unappealing. The announcements bar appearing in the account home page is quite useless as it rarely gets updated and only clutters an otherwise clean dashboard.
Other than these minor quibbles over the site's look and some pointless menus, BigRock is entirely user-friendly with functions that work well.
Domain Privacy
For $5.49 a year, you get BigRock's Privacy Protection plan which is relatively cheaper compared to most registrars' privacy plans that cost anywhere between $8-9. It is not the most competitive (ie., reasonably cheap) domain privacy price tag as others offer this feature for way less, but it isn't exorbitant, either.
Like most registrars, not all Top Level Domains (TLD) available at BigRock can have a Privacy Protection plan. Some of the reasons for this are due to restrictions imposed by the Registry Operator (eg., region-based extensions such as .au, .ca, .asia, etc.) and due to other restrictions (eg., .org.co, .gov.co, etc.). Notwithstanding the exclusion of these extensions, BigRock's Privacy Protection is a useful privacy tool that protects registrants from pranksters, spammers, and other types of strangers' contact.
On the checkout page, the privacy plan will be offered as an add-on and removing it from your purchase is not a hassle. It does a good job of pitching a privacy protection's advantages which its Knowledge Base page also provides more than sufficient information on. Privacy protection can be enabled upon registration or upon transfer of a domain name and can also be enabled and disabled at any time. Tip: watch out for domain privacy promo codes when checking out. Furthermore, at BigRock you can easily apply privacy plan for bulk domains.
Features
As mentioned, BigRock offers a host of web presence products from naming the website to maintaining it. Apart from domain registration, it offers several packages for hosting – shared hosting (Linux and Windows hosting), reseller hosting (Linux and Windows), and specialized hosting (Wordpress, CMS hosting and ecommerce hosting). It also offers server services (VPS hosting), website building (do-it-yourself builder), business email (Business Email Lite and Business Email), and security features (SSL, SiteLock and Code Guard).
Aside from its fairly decent domain registration tools and extension choices, what stands out from its others features is the specialized hosting package. For example, their Wordpress hosting offers 'unlimited domains, email and disk space' and actually delivers on the 'unlimited' tag and comes with a 3-day money-back guarantee. It is imperative, however, to review the your plans' terms to ensure you're getting what you paid for, especially if you were drawn to promises of the word 'unlimited'. A Whois lookup tool can also be used while on the site – an essential tool to have at your disposal if you're searching for domains and planning to look up a certain domain's information.
Bulk Registrations and Management
Bulk domain registration is something they do well at BigRock. They offer some fairly sizeable discounts for bulk registration which is great but it depends upon the extension or extensions chosen. Reasons to do bulk domain registration may include discounted bulk domains, increased visitors via redirected domains, securing desired domains, and having a single location for several domains. Also, if protecting your brand is important to you then BigRock.com's bulk registration tool is a great place to start.
6 or more domain registration is considered a bulk purchase, and unlike bulk registration in most registrars BigRock provides a discounted price matrix for purchases of 6 or more. Discounted bulk rates are grouped through a range of bulk options: 6-20, 21-49, 50-100, and 101+ domains. To avail of these rates, it is necessary to talk to one of their specialists. Even though they have these pretty attractive discounts for bulk registration, being required to call their help staff could be a potential hurdle. Otherwise, their bulk registration rates fair.
For those who don't mind paying premium prices for domain names in bulk, they offer a separate list for non-discounted prices. Extensions usually offered at discounted rates are .com, .net, .in, .co.in, .org, .info, .biz and .co.
Access Level and Delegating
Unfortunately, delegating domain management or assigning technical access level is not possible. If you have a hosting package with them, you can provide access to a third party without having to provide access to the BigRock main account. Nowhere in its otherwise exhaustive Knowledge Base does it indicate the possibility of handing over access levels or delegation manager rights.
Pricing and Coupons
A simple domain registration is $9.99 and comes with two e-mail accounts, domain theft protection, multiple mail forwards, and domain forwarding for free (a combined $100 value per their site). They also offer a lot of extras with a purchase of any of their domains. For example, private domain registration and full access to DNS management are both free.
Their prices tend to vary greatly and is not always dependent on the extension or the package choice when it comes to hosting. The price scheme can be a bit puzzling, but are generally within the low to mid-range that it's safe to say that the prices are fair. Aside from the generously discounted bulk domains, BigRock occasionally comes up with a few price cuts on domain names. On domain transfers, they offer free renewal for 1 year.
Coupons are offered on its Deals page. There is a 'Promotional Offers' window in the Admin Area but these are just links to certain non-coupon pages. BigRock's Deals occasionally comes up with slashed domain prices and sometimes bundled offers for domains, email and hosting often for annual registrations.
Having easy payment options could be crucial for some customers when making decisions to register a domain. In this area, BigRock offers a non-restrictive means for payment – debit cards, credit cards, PayPal, and other offline payment options.
Customer Service
Need help with something? There's the Support Team for that.
BigRock's customer service department seems adequately staffed with competent and responsive representatives. While many customer service sites today have this feature, it is rare to find on domain registrar sites. BigRock, however, has knowledgeable associates who are ready to respond to customer service inquiries via live chat that typically takes only 1-2 minutes to connect. Expect to chat with Indian representatives most of whom are well-versed with the most common issues particularly those concerning bulk registration and management. Hitting BigRick's Live Chat button is a guarantee that someone will be answering your concerns. In the rare instance that no one is around to resolve queries, you can send an email or call a USA toll-free number.
Granted, support is not always instantaneously available and to be fair, nowhere in the site is it promised that their support is available 24/7 the way other registrars do. But for the most part, a credible support staff is available.
Management Summary
A no-frills approach to selling its products and services with everything plainly, if a bit overtly, laid out for the customer makes BigRock.com an attractive choice for domain shopping. Those looking for straightforward transactions and the barest domain registration needs might find BigRock's in-your-face upselling a bit too much. Not to worry, though, as there are no deceptive upsell. Customers should also be kept pleased with its bulk registration rates as well as its attentive customer service live chat. Clearly outlined instructions for transferring and an expansive knowledge base also add to their appeal as domain registration provider. Even with the aforementioned shortcomings, BigRock is a good option for domain registration especially to those who are looking to transfer and expand.
Registrations are handled by:
Directi Group
Domains registered:
4,500,000
Description:
Directi is a leading, multi-national, internet products company that builds innovative, mass-market, Web 2.0 products and services used by millions of users worldwide.